Aha, Man am I glad you guys added in the map editor, really am! With that being said, I decided to quickly make a few maps.
I Heart You
In the first map, you are pit against a single opponent, while sharing one heart-wretching landmass to work in. Delight in the tearing of the heart as your corrupted dungeon blossoms out of it. Be cautious though, for your opponent is close by. If you are able to venture upwards fast enough, perhaps some extra magical prowess can help you about!
http://steamcommunity.com/sharedfiles/filedetails/?id=574871096
Open Ended
Tunneling about is one of the primary goals of any would-do imp. Well, recently your core surfaced in an area that is.. Less occupied by dirt. Let your imps have a little time off from the heavy manual labor of digging, and allow them to claim at their heart's content in this four player battle royal. Be wary of attacks from the sides, Underlord.
http://steamcommunity.com/sharedfiles/filedetails/?id=574826875
Water Tide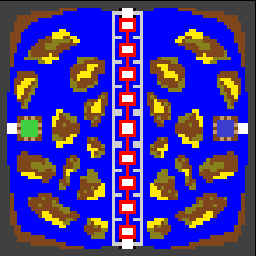 Your neighbor decided to call you out for eating your bread butter side up. Now its time to assault them past their feeble little wall! Be wary of moving too early, however, for that wall does have its own defense mechanisms.
http://steamcommunity.com/sharedfiles/filedetails/?id=575467499
Sight
Have you ever tired of being an Underlord? No? Well.. That's a shame for you, because in this realm, the only army you'll receive is an army of good. Rushing in this realm is no easy feat, though it is advised, for there are powerful mercenaries and riches galore to those who can foot past the Underlord outposts. That isn't even mentioning the Perception Shrines installed right next to each core. You have absolute sight over what your foes are doing!
http://steamcommunity.com/sharedfiles/filedetails/?id=575483931
Last edited: