Name
Necromancer
Preface
With a graveyard and likely various undead creatures showing up in the game, it may be interesting to have a creature who has a strong interaction with them, who can controll the mindless undead, adding a new layer of strategy to the game.
Appearance image
: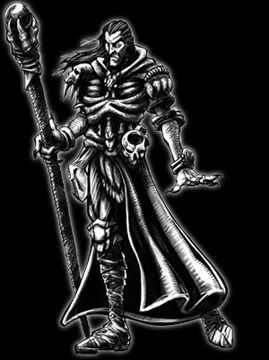 Not a great image, but I cant seem to find what I have in mind.
Stats:
Very weak at level 1, average to high at later levels.
Health:
very low.
Armor:
low.
Movement Speed:
slow.
Attack strength:
average.
Attack speed:
slow.
Intelligence:
high.
Construction:
low.
Training Rate:
average.
Training Cost:
high.
Wage:
average.
Gender:
male
Skills:
Level 1: melee.
Level 3: dark energy ray. (becomes primary attack, fires a ray that does average dark damage.)
level 5: raise zombies. (can raise weak undead creatures from the corpses of fallen enemies and allies.)
level 7: fear. (can cast fear on enemies, causing them to flee in terror.)
level 9: poisonous fog. (slams his staff against the ground, causing poisonous green fog to appear around him in a large area, doing poison damage over time.)
other abilities:
-Can chant at graveyards to help speed up the process of raising vampires, zombies or whatever undead can emerge from the graveyard. At higher levels they also bring down the number of corpses required.
-Mindless undead such as zombies and skeletons, but not vampires have a chance of permanently joining the necromancer's faction when fighting against them. The chances of this increase as the Necromancer gains levels, with about a 90% chance at the highest level.
-Can prevent mindless undead from turning on you when they fight with them against enemy necromancers.
-immune to sickness. Cannot be affected by plague or other curse spells that involve sickness. He can still carry a disease and transfer it, but it won't hurt him personly.
-the mindless undead will fight to protect him in battle, trying to keep the necromancer safe.
Weaknesses/Resistances:
has a reasonable resistance against cold and poison damage, and a weakness against light damage.
Information:
The necromancer is a reasonable spellcaster and researcher, but his powers over the undead is why the player will want to have them. They cant do anything with unconcious enemies and allies, but can raise them as weak zombies when they are dead. This makes them exellent support units, but probably not too attractive to have many of them unless you plan on having many or even exclusively undead creatures in your dungeon. They make sure that the mindless undead dont turn on you when facing an enemy necromancer so should ideally be paired with them in battles.
The necromancer is not an undead creature himself however, he is somewhat in between being alive and dead.
Overall its certainly a creature to keep an eye on when enemies have them, since it could cost you dearly if you send cheap fodder against them.
Appearance:
A sickly pale old man with a frail physique, he leans on a staff made of bones for support. His hair is long and grey, he wears a simple black robe.
Behavior in Dungeon:
Likes spending time with all manner of undead creatures and will talk with them, mumbling a bit even against skeletons or ghosts. The mindless undead see the necromancer as an authority figure and will aid him in his battles, while undead that can think for themselves such as ghosts and vampires seem to be in an equal relationship with necromancers.
Battle Style:
support fighter with some attack spells. Especially in long battles he is very usefull since he raises zombies from dead warriors. His low health makes him weak so he needs to be well protected, his fear spell is pretty much the only thing he has to turn attackers away from him when they get close.
Jobs:
Primary he will research when possible, and his secondary job is chanting at the graveyard to help speed up the process of raising undead creatures, lowering the number of corpses required at higher levels.
Loves:
undead creatures, spending time at graveyards, dark temples, seeing corpses wether they are friend or foe, seeing someone getting sacrificed, watching people getting tortured to death.
Hates:
Holy heroes such as monks, priests and templars. (who would probably start fights against him.) generally dislikes converted enemies since he thinks they should have become undead allies, doesnt like working in the workshop.
Anger reaction:
He will turn on you, any undead creatures will instantly join him when they see him fight against you.
Lair:
A circle of skulls. When sleeping he levitates with his arms folded.
Obtainable By:
creature, comes through portal.
Attracted by:
5x5 graveyard attracts the Necromancer.
How Introduced:
An enemy dungeon lord has several of them a level before graveyards are available.
Which means they play a vital role here, resurrecting corpses on the battlefield to fight the player and also preventing the player from using mindless undead to fight against them since they will just turn on the player, since the player has no acces yet to necromancers since the graveyard can't be build here. He'd need to capture and convert those of the enemy which would be quite difficult.
Entrance Effect: [OPTIONAL]
A sickly green fog comes from the portal as the Necromancer enters the dungeon. The sounds of a pipe organ can be heard playing a funeral mars as he enters.
Torture: [OPTIONAL]
His frail body could get stretched during torture.
Advisor Quotes: [OPTIONAL]
Behold the necromancer. A frail looking minion on first sight but don't let this fool you, he holds great power over the undead and can controll the undead who have no mind of their own.