Name
Huscarl.
Preface
Considering how many creatures of folklore come from Scandinavian mythology, it seems only fitting to have a hero from that region as well to fight them in the dungeons.
Appearance image
: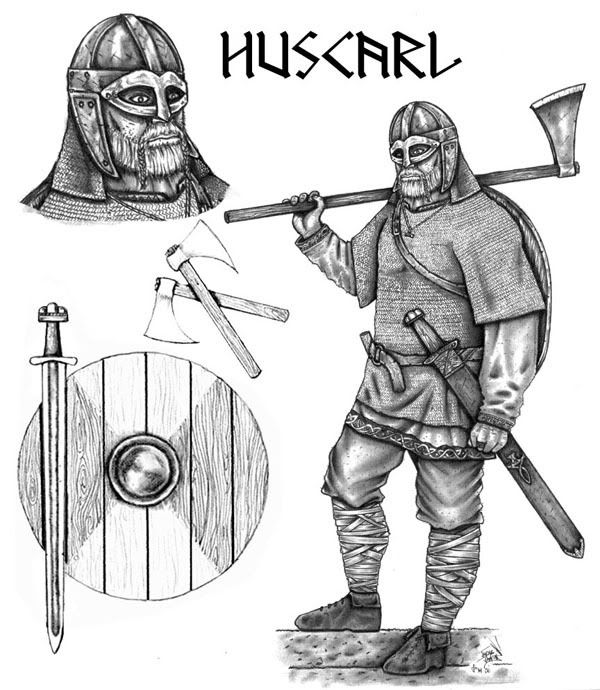 Stats:
Average.
Health:
High.
Armor:
Medium.
Movement Speed:
Average.
Attack strength:
above average.
Attack speed:
above average.
Intelligence:
low.
Construction:
average.
Training Rate:
fast.
Training Cost:
average.
Wage:
average.
Gender:
man.
Skills:
level 1 melee, level 3 furious strike. (powerfull attack that can cause bleeding damage.), level 6 rallying call. (uses horn to alert nearby allies and boost morale for a moment), level 9 speed, level 10 taunt. (bashes his shield and axe together to get enemies to attack him.)
Weaknesses/Resistances:
very resistant against ice attacks, cannot be frozen, resistant to blunt attacks.
Weak against poison.
Information:
(Basically, describe your unit here. Tell us what makes your creature notable.)
Appearance:
Armed with a painted wooden shield and hand axe and wearing chainmail armor with a nordic helmet, the Huscarl is a strong man of average height and with a braided blonde beard.
At his belt he carries a dagger.
Behavior in Dungeon:
(When idle, what does your Unit do? Also has typical behavior, such as things it tends to do and what kind of creatures it hangs out with, and to what types of rooms it goes.)
Battle Style:
Agressive attacker with decent defence. Fiercely protects leader heroes, attacking anyone who strikes at the leader hero is his first priority. His rallying call ability makes him a good guardsman.
Often shouts agressively while attacking with a booming voice.
Jobs:
training is first priority, guard duty second.
Loves:
Killing enemies, training, gold, fellow Huscarls, drinking at taverns.
Hates:
Trolls. Most common creature from scandinavian folklore, it makes for a good sworn enemy.
Anger reaction:
Goes drinking in the tavern, steals gold and finally leaves.
Lair:
Wooden bed with fine craftsmanship on the wood, and several thick furs laying over it as a blanket.
Obtainable By:
Hero who requires conversion.
Attracted by:
If a hero dungeon can be played, he'd be attracted by the training room or guard room.
How Introduced:
In levels with a cold dungeon if they are included they could always have a strong presence, they could be introduced when guarding the lord of a land.
Entrance Effect: [OPTIONAL]
Blows on his battle horn as he walks into the dungeon, making a different sound than when using the rally ability.
Torture: [OPTIONAL]
Burns him with heated steel.
Advisor Quotes: [OPTIONAL]
Here you face the Husarls, brave warriors from the North who seek to gain glory in battle.