Here is the place where my narcissism will be expressed today. Please don't begrudge me stealing your format, Reyh!.
Abyssal Pillar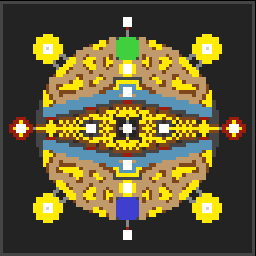 http://steamcommunity.com/sharedfiles/filedetails/?id=822903180
Earth tiles are relatively sparse in this realm, Underlord. Without replacement earth, you'll have something of an open-concept dungeon. A Gold Shrine near your Dungeon Core can be exploited as soon as you use an Underminer, but be warned; you may find it difficult to defend its miners.

My first map; I've since edited it to be less terrible. It's probably alright, but I honestly don't like maps without enough room to build a full dungeon before entering no-man's land. Mostly I just still like how it looks.
Sandy Tomb

http://steamcommunity.com/sharedfiles/filedetails/?id=846599772
The great king, Nyarthek the Returning, was said to have been buried in this realm long ago. Though his corpse has mysteriously vanished, his riches are fully intact, and now await a greedy Underlord to plunder them. You may also recruit eager adventurers from the Overworld to aid you - for a cut of the treasure, of course.
One of the earliest 3-player workshop maps, and thus an easy entry to the first
Community Spotlight
, if I may brag. I still like it, though I made a few significant changes since then like turning the extra underworld gateways into rooms containing neutral empire units, and adding hostile spirits to the pyramid.
Bloodied Colosseum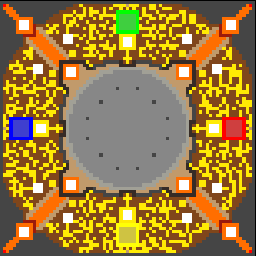 http://steamcommunity.com/sharedfiles/filedetails/?id=576527481
This subterranean arena was used by Asterion the Stubborn to engage with his political rivals face-to-face, in a manner of speaking. As more challengers to his rule found themselves transfixed upon the cruel spikes lining its walls, any defiance among his people slowly died away. Over the years the despot grew fat and complacent, making his kingdom easy pickings for the new powers growing around his borders. Now Asterion's obstinance has met its end; in the four Underlords that intend to succeed him, the arena finally finds contenders once more.

Let's get both of my Community Spotlight-makers out of the way so the rest of this doesn't seem so pretentious (to be fair, I was very proud of myself). This map has little room besides enough for a full dungeon, and almost nothing between you and the enemy, and thus can get a little frustrating for people like me who want to take their time and plan everything out. So it might be a good idea to play this one 1v1. Don't get disappointed when you realize the colosseum itself is not claimable; its just meant to be backdrop. Also yes, this is named for the Dawn of War Last Stand map. Anvil of Khorne may be forthcoming, given the current interest in rustamgm4X's 13th Black Crusade.
Stygian Ritual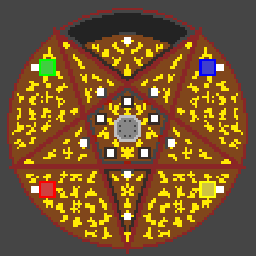 http://steamcommunity.com/sharedfiles/filedetails/?id=834071335
It may not be the first time rogue cultists have tried something like this, but if you ruin their dark designs with enough flair and cruelty, it should be the last.

Inspired by Dark Ritual and several other pentagram-shaped maps, I felt I needed to express my Satanism too. This one is probably unbalanced (there's a more-even 2-player version), and like a lot of my maps the gold placement is spastic, but I love playing it. The center pentagon holds one of each shrine as well as an enormous claimable Sanctuary with a neutral level 10 vampire, which is specifically designed to be taken and held as a unit. My only regret is that I couldn't make this map 5-player.
The Grid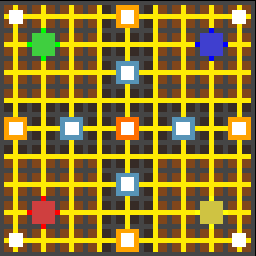 http://steamcommunity.com/sharedfiles/filedetails/?id=846051207
This maddening realm was created by Georithbraic, a being of frightening power absolutely obsessed with symmetry and mathematical perfection. The Grid was to be the template by which he would convert all existence, channeling the immense reserves of mana brought by criss-crossing ley lines to extend it in every direction infinitely. Luckily his lunatic plans were foiled by a temporary coalition between four rising Underlords, their natural inclination towards chaos and disorder uniting them against such nightmarish conformity.

Of course, with their common cause achieved, the Underlords have no interest in sharing the incredible power of the Grid with one another....

This silly map didn't take long to make after the math needed to calculate the size was done, admittedly, but I really liked how it turned out--at least visually. You only have just enough room to fit a full dungeon within each of your 16 impenetrable rock 5x5 squares, then you're just 5 more tiles away from your enemies. In retrospect it might be a little too easy to get to your opponents on this one; all you need is an underminer and you're pretty much there.
Titan's Keep
http://steamcommunity.com/sharedfiles/filedetails/?id=849123611
It is said there exists an incomprehensibly large keep, pulled forth from the very earth to provide a fortress-home to the lord of the mountain giants, Mímir. It is so enormous, the legends go, that a mortal man could carve a comfortable dwelling into a single battlement, or make a mansion out of one of its mighty gatehouses.

But mere stone would not be enough security for the greatest among the giants, so wise Mímir had four guardian spirits bound into his castle, one in each of the main towers. They would watch over the keep, rendering the structure impregnable to mundane and magical assault alike. Yet even so enchanted the fortifications could not protect the giant outside its walls, and Mimir was beheaded while out at war with the Vanir.

Now with no living charge to watch over, and curious denizens of the Underworld trickling into the abandoned stronghold, the tower spirits have grown restless. Each begins to view the other as an aggressor to the Titan's Keep....

This map was actually started around the time of the first Community Spotlight, but I took a long break from WftO soon after. The idea of an abandoned castle so big that it could house your entire base atop a single tower came from an old Warcraft 3 map I made, though in practice this game needs a lot more space. I think whichever player captures the "Gatehouse" probably takes over their entire wall pretty quickly, but maybe blasting through to the inner towers and taking control of a hero shrine first is just as good. Apologies for the butchered Norse mythology in the description.
The A-Maze-ing Labyrinth

http://steamcommunity.com/sharedfiles/filedetails/?id=850423012
Are you smarter than a minotaur?

Not an original idea, but I wanted a maze map that you could actually build within. With 7-tile thick walls in order to allow your dungeon's 5x5 rooms to align, the complexity of this labyrinth is less than I initially planned it to be. Still, with black fog of war and no access to your basic seeing spells, it may take you a while to get your bearings without studying the map before the game starts. A few dead-ends can be broken with an underminer, but while that gets you to the shrines more quickly it also exposes your core to more direct attacks. I worked out a way to preserve the alignment with one more row of 5x5 tiles on either axis since then, so I may make another, more labyrinthine map (with a more thoughtful description). The awful name is not original, it's actually from an old Ravensburger board game with a baffling dearth of minotaurs.
Sight of Evil

http://steamcommunity.com/sharedfiles/filedetails/?id=851043961
Do you feel like you're being watched? In this realm you have easy access to a perception shrine that reveals the core of your enemy's dungeon, allowing you an insight into their plans from early on. Don't forget though; your actions are under the very same scrutiny.

"Occulandi Luciferus," Underlord. You are in the Sight of Evil.

Named for Dungeon Keeper's counterpart of the Prophecy spell, this map is probably my favorite of my own so far. It looks great and is really fun to play, with (what I thought) was a clever-but-unobtrusive gimmick and just enough room in your "circles" to spread out a full dungeon - with some planning. My only issue is that there are only two ways to the enemy's dungeon, but any more and the "distance" between you would be too short. Side note: the faux-latin spell chanting in Dungeon Keeper is really the one thing that game still has over WftO.
Rivers of Life

http://steamcommunity.com/sharedfiles/filedetails/?id=855321230
It is speculated that these fabled currents of blood and water run from the astral place where the Elemental Plane of Ice overlaps with Hell itself. Whether by chance or by design, they have sculpted into the earth the form of the Double Helix, a shape associated with the very substance of life. So see if you can match them in the lifeblood you spill from your enemy.

Honestly the reason I started this thread; I wanted to give this map some attention. The idea was to make a map with a river in the middle with large masses of gold in the midst of it. Somehow that turned into a pair of double-helixes (or a double-double helix, I suppose,) and it became the red-and-blue mess you find before you. Again, I felt I did a good job with the amount of space you have to create your dungeon, and there are a multitude of options for attacking the enemy, as well as a few pseudo-secrets to encourage exploration.
That's all my vanity for now. These aren't
all of my maps
, but the ones not listed here are variants or are not good even by my dubious standards. I have a few other ideas; vote (below?) on which ones sound good, or just steal them and beat me to the punch.
Last edited: