Name
Mastermind
Preface
Mastermind is a controller\debuffer that can stay behind meatshield. the idea is to have a minion, who can stop charging tanks and give ohter minion time to deal damage. His magic resistance aura can help in fighting magic damage dealers. And to fill high-intellect creature, who would not be suitable for research.
Description:
From the deepest corners of the dungeons most foul comes Mastermind. Horrible abomination whose only goal is to control. Control everything, everyone, by every means possible. Many argue if the creature is a beast or really sentient being, for Mastermind show no interest in knowledge. They rather control the researcher, than drain him of his knowledge. Yet they extract the information, but of only one kind - backdoors and hidden passages to sneak into and lauch a surprise attack on unsuspecting victim. And in the end, everything serves one singular agenda - to enslave and dominate.
Appearance image
: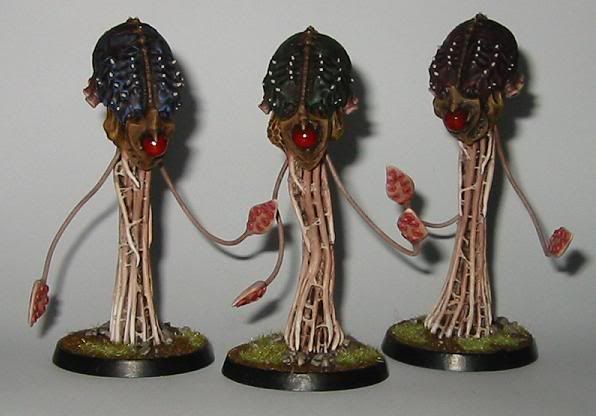 Stats:
(Remember: Avoid using numbers for statistics. Use general terms, such as "low", "very low", or "high".)
Health:
Low
Armor:
None
Movement Speed:
Average speed
Attack strength:
Average
Attack speed:
Slow
Intelligence:
High
Construction:
Bad
Training Rate:
Moderate
Training Cost:
High
Wage:
Average
Gender:
none.
Skills and Abilities:
Passive:
Collective Thinking - grow in power if other Masterminds nearby.
Brainwaves - grant weak magic resistance to nearby minions, growing in power with each Mastermind nearby.
Abilities:
Malicious Intellect - increasing area of influence when "working" in Brooding intellect.
Brainwash - can brainwash imprisoned\fallen hero\creature and turn it into obedient slave.
Mindreading - Can extract map\trap information from tortured creatures\heroes.
Active
Level 1: Mindblast - weak ranged ability with microstun.
Level 5: Mindbreak - force creature\heroes in a very small aoe to fight each other.
Level 8: Thought Control - gain control over single enemy creature that will fight for you for a limited time.
Alternative possible skills:
Level 1: Mindslash - Deals damage. Magic users suffer more damage depending of their intellect.
Level 5: Mindblank ssion - Prevents magic user from casting spells.
Level 8: Telepathic assault - Single target Paralization attack. Paralisis lasts as long as Mastermind maintains concentration. I.e. channelled spells mechanics.
Enslaved Thrall:
Creature
Weak creature, a result of Brainwash ability. Always follow their Mastermind and fetches it piglets and other items(if such would be possible), also serve as a meatshield by throwing themselves on enemies if they try to get in melee with Mastermind. Anyway, easily killed. No more than 2 Thralls per mastermind possible, and second one could be gained only after Mastermind reaches level 7. Can't level and the only ability is to take percentage of damage for Mastermind.
Weaknesses/Resistances:
Weak in melee,
Resistant to magic.
Very weak vs ranged physical, like arrows.
Information:
Mastermind starts as a Brooding Intellect worker, increasing area of influence. And continues as a controller who can protect your minions from magical barrage. Also, it may spread chaos among enemies , especially if they come in great clustered numbers. Weak and vulnerable, it requires constant protection and meatsheild to hide behind. they are extremely rare and thus, it will be very hard to get more than 3 o them, 5 should be extremely high number for this type of minion.
Appearance:
Mastermind may look like floating brain and resemble Zoanthrope from Warhammer40k universe, or floating Sectoid-like creature with huge cranium and weak body.
Behavior in Dungeon:
Mastermind prefers to hang near Brooding Intellect or prison, if someone is imprisoned. They tend to gather in a group to get Collective Thinking bonuses. Sometimes, if someone is being tortured, they can get near tortured person and extract map information from them - when torture starts Mastermind comes near and may play some animation and increases the chance of map\trap info extraction.
Battle Style:
Almost pure support, Mastermind tries to stay behind meatshield-role creatures as much as possible.
Jobs:
Meddling near Brooding intellect is by far most favorite job. Assisting in tortures is second and researching is least preferred from intellect-based jobs to represent Mastermind more beastial nature - it's more into control than research and knowledge.
Loves:
Being around powerful fighters, being near other Masterminds, having two thralls, having Brooding Intellect nearby, having someone in prison.
Hates:
Getting into melee, destruction of Brooding Intellect, being unprotected.
Anger reaction:
Dissatisfaction reaction is reducing effectiveness of Brooding Intellect.
Anger reaction is projecting his thoughts to other minion, making them dissatisfied and angry in turn.
Lair:
A nest is a disgusting pulsating throne where Mastermind's huge brain\cranium can rest.
Obtainable By:
Attracted to dungeon through your portal.
Attracted by:
Brooding Intellect