Description
Recruited from a similar stock as the cultists, the Men of the Lantern find normal combat with magicks or swords trivial and boring. Instead, they enchant themselves and their lanterns with misdirecting spells, enabling them to fight as something completely different than the run-of-the-mill mage or swordsman.
​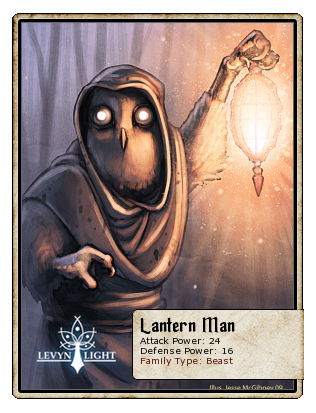 Key Stats
Highlight:

Mysterious buffer/debuffer.
Faction: Underlord
Type: Intelligent
Role:

Support Caster.
Acquired By: Archive, torture chamber
Basic Attack:

Medium Dark
Offensive Power:

Medium
Defensive Power:

Below-average
Resistances:

Average vs All
Movement:

Medium
Work: Archive, torture chamber.
Entertainment: Torture, Research
Special Needs: Nothing special.
Upgrades: Nothing special.
Traits
Trait Name: Light the Way. All creatures in the vicinity of a Man of the Lantern is given a 50% resistance to blinds, silences and immobilizes.
Trait Name: Magical Presence. All spells cast in the vicinity of a Man of the Lantern costs 10% less mana.
Abilities
Ability Name: Shine a Light. (Level 1) The Man of the Lantern increases the light radiating from his lantern on a particular enemy, giving all allies a 25% damage
increase on that target.
Ability Name:

Set alight

. (Level 4) The Man of the Lantern tosses his lantern forward, leaving a trail of green fire after it, damaging all who step on it with above-average fire damage.
Ability Name:

In the Dark

(Level 6) The Man of the Lantern drains light from the area and stores it in his lantern, causing all opponents in the area to have a 15% chance to miss their attacks entirely. After 10 seconds, the light is released, dealing moderate light damage to anyone in the area of effect.
Flavour
Appearance: Taller cultists, wrapped in similar robes but with bits of ragged plate armor added to it. Carries a large lantern in one hand and a curved dagger in the other. Covers their faces with masks.
Likes: Torture, combat, research
Dislikes: Being attacked directly.
Behaviour: Prefers research.
​