Frost Weaver
WFTO Founder
Jan 19, 2013
2,453
1,092
610
29
Key Stats
Highlight:
A Fairly Weak Scout/Fighter unit whose true use comes after a little training, he is especially suited for possession and use of his various "talents" to cause problems for your enemies.
Faction:
Underlord
Type:
Intelligent
Role:
Scout, Melee Fighter, Saboteur
Acquired By: Portal, Requires a a lair, large treasure and lots of gold reserves plus somewhere to train
Basic Attack:
Melee, Slash Attacks
Offensive Power:
Moderate (Strong for first attack when undiscovered)
Defensive Power:
Relatively Weak (he is better suited to avoiding fighting outright)
Resistances:
Average against all,
Movement:
Medium (Faster with his passive abilities)
Work
: Scouting, Training, Sabotage, Manufacturing Traps
Entertainment:
Gets drunk in the Tavern or explores your dungeon.
Special Needs:
Will often wander off in search of your enemies so you need to keep an eye on him
Upgrades
: The damage and stun duration of his Throw Dagger attack increases as he levels up
​
Traits
Undercover:
A Rogue will not be immediately identified as an enemy unless he uses an ability or attacks an enemy, once discovered he will remain discovered until he leaves the enemy's area of influence. He will also immediately be discovered if an enemy underlord tries to pick him up.
Sneaky:
A Rogue moves silently and gains a small movement speed bonus when on unclaimed or enemy land if he is undiscovered.
Saboteur:
Can disable certain traps, pick locks on doors and sabotage other underlords dungeons.
Abilities
Stab [Level 1] : Stabs a single enemy with a Melee attack doing extra damage if he is undercover. The Rogue will automatically become discovered upon attacking an enemy.
Throw Dagger [Level 2]:
Throws a small poisoned dagger at an enemy
a short distance away, stunning the enemy for a few seconds allowing it to be attacked without raising an alarm. It will still cause the Rogue to become discovered if the enemy unit is not killed before it is unstunned or if the rogue is seen using the ability by another enemy. It can also damage doors and traps from a distance without causing the rogue to be discovered as long as he does so undetected. Quick to recharge with low cool down.
Pick Lock [Level 3] :
The Rogue picks the lock of an enemy underlord's door allowing him to pass through it undetected as long as he is undiscovered, picking a lock in the presence of an enemy creature will automatically cause him to be discovered. The door will basically change to "Open to All" until it is toggled again by the enemy underlord (who has persumably noticed he has a rogue wandering his halls)
Disarm Trap [Level 5] :
The Rogue gains the ability to disable certain defenses/traps from a short distance away, the trap would then not work/activate on it
's next trigger (I.E If a rogue disarmed an alarm trap, the alarm would not sound when he then walked past it) - The list of traps he could disable would have to be balanced of course.
Sabotage [Level 6] :
The rogue causes some kind of negative effect to the room he is currently in (assuming he is on enemy territory and is undiscovered) for certain rooms, this would then cause him to become discovered in any enemy was in the same room. This would also have an incredibly long cooldown so would basically act as a one shot per visit to the enemies dungeon unless you could remain undiscovered for a long time.
Effects would include things like;
Creating Himself a Lair in the enemies lair (taking up a space and helping him blend in),
Stealing Gold from an enemy treasure (which he would keep),
Poisoning the enemy's Micro Piglets causing them all to die (and stop new ones spawning for a short time)
Disrupting Research in the Archive (The next sin point will take longer to research)
Destroy Blueprints in the Foundary (Defenses would take longer to build for the next X defenses)
Shadowblend [Level 8]:
The Rogue blends with the shadows becoming invisible and gaining a speed bonus for 5 seconds if discovered or 8 seconds if undiscovered (this does not cause the rogue to become undiscovered again if he is already discovered). He also stops being targeted by any units/spells/abilities that are currently targeting him​
Flavour
Appearance
: A Crouched Hooded Human/Elvish character wearing dark dyed leather armour
(See images below)
Lair Appearance :
A small hastily throw together bed/matress where the rogue can take an occasional nap
Likes:
Sneaking Around, Exploring, Gold
Dislikes:
Being stuck in one room, having nothing to do, not being paid
Behaviour:
Tries to explore enemy territory whenever possibly, only returns to collect pay. Will steal food from enemy territory rather than return to your dungeon if possible.
Anger Reaction
: Sabotages one of your rooms.
Mentor Quote:
Well well, look what we have here... A rogue has entered your dungeon. He might not look like much now but train him well and you'll see that brute force isn't always the only way to access your enemies dungeons.
Rogue appearance references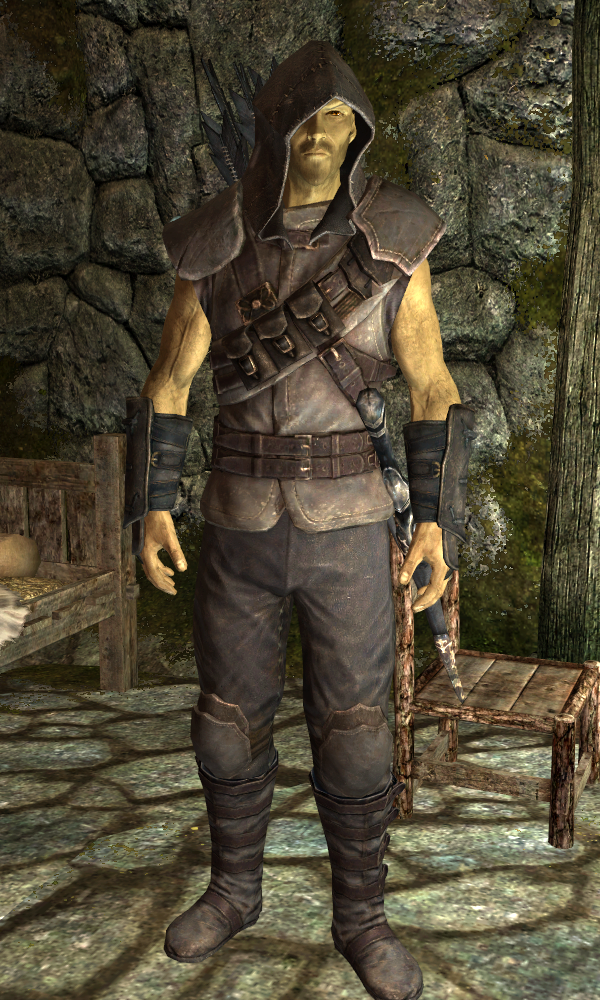 (The pouches across his chest would be replaced with throwing daggers)
An new take on the DK Classic with a bit of a new game mechanic with the whole, undercover/discovered thing. Basically your rogue can wander through enemy territory and get up to mischief without being discovered as long as he doesn't do anything to draw attention to himself... like attack an enemy or poison the micropiglets in front of an entire army of hungry enemies.
This would of course be very well suited to using him as a possessed creature so you could better judge when to use his abilities without getting caught. He'd also do well as an leading attacking force, disabling doors and traps so your creatures can follow him in. He could also be seen as somewhat of an Anti-Sloth unit which would probably make him best suited to the Wrath vein.
Sorry if something like this has been suggested before, I looked through the suggested stuff list but its so long now that it's hard to know for sure.​
Last edited: